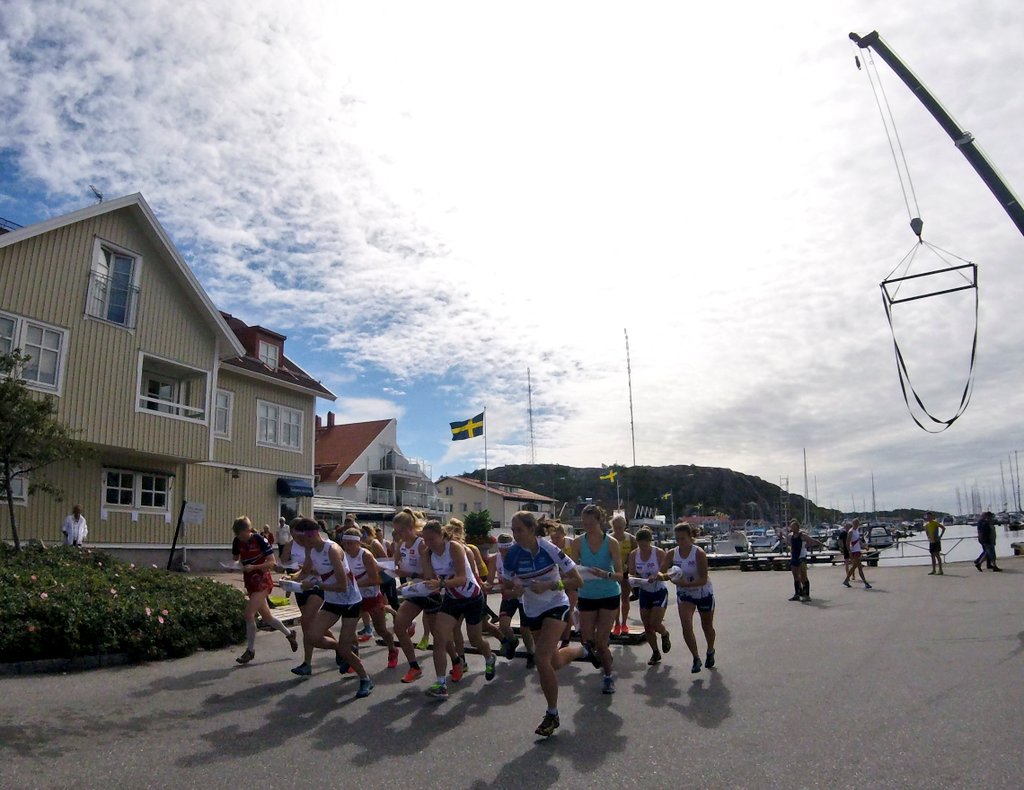 The last relevant training sessions for WOC 2016 are completed after a tough training week in the Strömstad area in Sweden as well as one day in Tønsberg in Norway with the norwegian WOC-team. From 4th to 10th August we have been training many quality high intensity sessions, both in the forest and in city sprints, and I am starting too feel ready for the championships in 1.5 week. // De siste WOC-relevante treningene er unnagjort etter en god pre-camp sammen med resten av det norske VM-laget i Strömstad-området og i Tønsberg. Det ble mange kvalitetstreninger på høy intensitet, og jeg begynner å føle meg klar til å løpe VM om 1.5 ukes tid. 
The training camp started with one easy forest session in Tjärndalen Thursday evening. Friday morning I ran through a middle distance course at an easy pace in Munkedal. In the afternoon the sprint part of the team went to Lysekil for a hard sprint session. I did a good sprint and could win the training, but still some details to work on technically. Saturday I went for one easy long distance relevant training in Näsinge (I am reserve for the long distance), and in the afternoon I only did some easy running and core strength.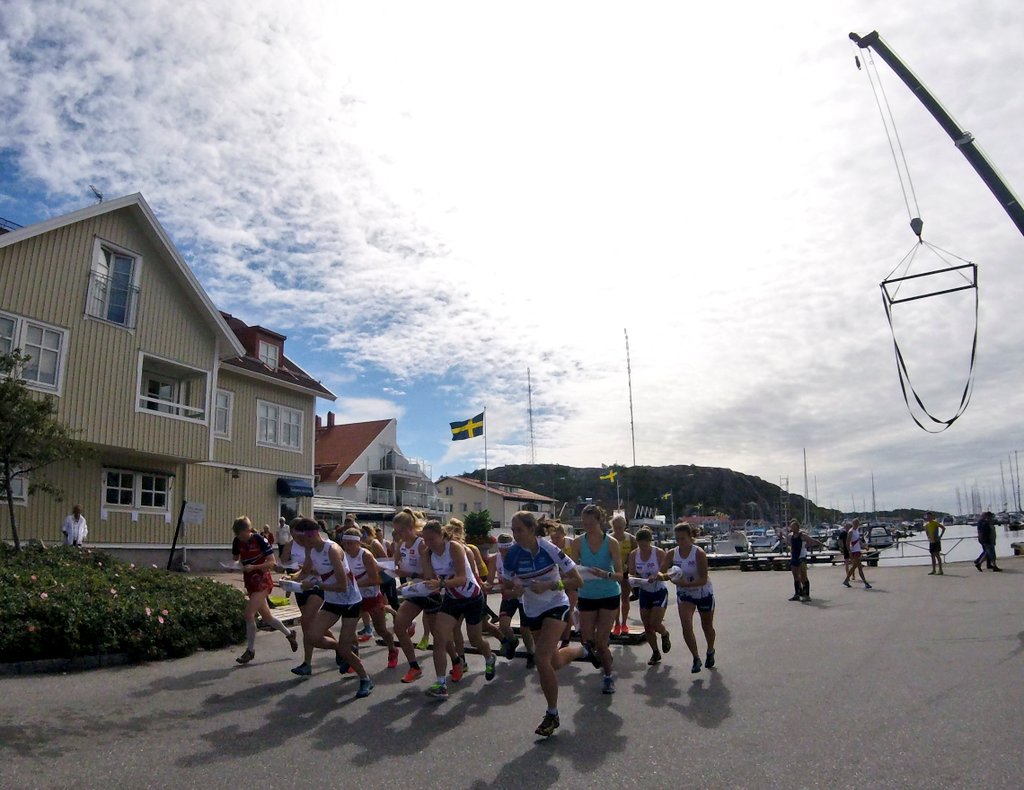 Sprint relay masstart 1st leg. Photo: Øystein Kvaal Østerbø.
Sunday the sprinters headed down south to Grebbestad to do a sprint relay training together with a lot of other nations. It was organized such that each team had one woman and one man where the woman ran 1st and 3rd leg and the man the 2nd and 4th. Each course took approx. 11-14min, but the change-over for each leg was at arena passage of the leg before. Since I am running the 1st leg at the WOC sprint relay this was an important last preparation. On the 1st leg I started out well, and felt that my pace was quite good. I made some routechoice mistakes, and did not see some fences, but I felt in control of my race and could keep up with most of the others (4th-5th best time). Out on my 3rd leg my teammate Øystein Kvaal Østerbø sent me out just behind the leading pack. I did an ok technical performance even though I was very tired after the 1st leg, and could catch up with some swedish teams getting the 4th (?) fastest time. A very valuable and fun training! In the evening the sprinters took the ferry from Strömstad to Sandefjord and drove to Tønsberg. 
Sprint relay in Grebbestad.
Monday morning we did a new hard sprint session together with some swedish runners. I ran well in the beginning, but got tired towards the end and made some smaller errors. In the afternoon we did a second hard sprint session with intervals also in Tønsberg. After two good trainings the legs were tired and we went back to Sweden with the ferry. With these trainings the sprint part of the pre-camp was over, and some went back home. I stayed for two more days running a forest relay training on Tuesday morning, and a long distance relevant easy training on Wednesday morning before I headed home in the evening. 
MAPS with comments// KART med kommentarer
GPS-tracking from all test races during the pre-camp.
Satisfied with a good training camp, with a lot of good feedback physically, tactically and technically. Now some easy days at home will follow before I will head back north for WOC on Tuesday. The most important preparation is finnished and I am starting to feel excited! // Fornøyd med en god treningssamling med masse tilbakemeldinger både fysisk, taktisk og teknisk. Nå venter noen roligere dager hjemme i Bern før jeg reiser nordover igjen på tirsdag. Hoveddelen av VM-forberedelsene er unnagjort, og jeg gleder meg til VM!